FAQ
Should you have further questions, please send us a message.
V-Love Period Belt
HOW DOES THE V-LOVE PERIOD BELT WORK?

Simply wrap & snap HER around your waist in 20-30 minute intervals, focusing on the pelvic area or lower abdomen for therapeutic heat & massage.

Wear to work, school, exercise, running errands, events, dates or just snuggle in the bed with warmth and relief.

The days are over restricting our moves just because we are on our periods. The V-Love Period Belt got you!
DOES THIS PRODUCT REALLY WORK?

Yes! Our products are effective and works well. However, results may vary per person. For the best results, please follow instructions. There are customers who have had immediate results, while others may see results later.
CAUTION!!

CAUTION: Our period belt heats can be intense thus please use a shirt or cloth between your belly and device to prevent high heat setting from touching skin directly. The high setting gets really toasty to help relieve cramps but may very well be too hot for direct skin contact.
CAN I USE THIS?

Yes this is great for all ages. Teens under 18yrs parent/guardian supervision is required.

RELIEVES ACHES & TENSION FROM THESE:

Menstrual Cramps | Endometriosis | Fibroids | Cyst Therapy | Castor Oil Packs | Back Pain | Sore Buttocks | Sore Muscles

DO NOT USE IF:

Pregnant | Heart Disease Patients | Gout Patients | Open-Wounds or Sores on Skin | Cervical Tumors
HOW FAST WILL I FEEL RELIEF?

Reports from users with varied levels of period cramps have stated relief instantly as early as 3 minutes without the use of pain pills. Please know results may vary based on your needs. But you will feel the heat & massage calm those tense feminine muscles in minutes.
HOW DOES IF FEEL?

Like WOAHHH!!! If you've ever used a hot water bottle, heat patch, or heated hot towel THEN you're in for a relaxing treat. It's like giving your period a spa treatment with relaxing hot stones but you get to control the temperature but with gentle soothing vibrations.
IS THIS SAFE TO USE?

Yes, our device provides natural thermal heat using Graphene Heating Film which is safe & effective in providing safe heat in a large area.

You can feel the heat quickly without waiting.

The EVE Belt will shut down automatically after approx 30 Minutes for safety precaution. Simply double tap to turn her back on again as needed.

CAUTION: Our period belt heats can be intense thus please use a shirt or cloth between your belly and device.
WHAT'S INCLUDED WITH PERIOD BELT KIT?

Your V-Love Period Belt kit includes the belt, a USB charging cable, a portable battery pack with its own usb cable, silk carry bag, and a FREE GIFT.
HOW DO I RECHARGE IT?

Simply use USB provided in your gift box to recharge it in a power outlet.

Thanks to EVE's portable design and built-in rechargeable battery, we can bring HER anywhere we go, anytime. Charge 3-5 Hours for full charge.

Included with our EVE Belt is a complimentary portable power bank to also charge HER anywhere, anytime which means we can leave home with confidence.

Just make sure the battery is fully charged, and this device will have you covered whenever period cramps start to get in the way of life.

Be sure to keep our power bank charged for when we're on the go.
WILL I NEED TO BUY A NEW BATTERY?

No our V-Love Belt is rechargeable with a USB charging cable provided with your order.

The portable battery pack will allow you to travel and charge when an outlet is not available. Yep you can charge in the car!
WHAT'S THE BIGGEST SIZE EVE BELT CAN FIT?

Belt Fits upto 50in waist Comfortably. It can be stetched upto 55in waist but may feel a little snug. We are working to get 70in waist bands but we will update website when it becomes available.
CAN I STILL TAKE PAIN PILLS?

Please consult your doctor. For many, our device's heat & massage therapy have reduced the amount of pain pills that customers would normally for cramps. As a suggestion, run to your V-Love belt and give it a chance to work before adding unnatural substances to the body.
WHY HEAT & MASSAGE BETTER THAN PAIN PILLS?

1052 STUDIES SCREENED CONFIRMING HEAT & MASSAGE ARE MORE EFFECTIVE THAN PILLS FOR MENSTRUAL CRAMPS 

Check out this study on how heat wraps WORKS BETTER than pain pills in reducing cramps, mood swings, and fatigue. 

"The heat-wrap group reported less severe menstrual symptoms"

Additionally, the heat-wrap group had significantly lower scores (LESSENED SYMPTOMS) regarding mood swings, fatigue, and lower abdominal cramping,

CLICK HERE TO READ HEAT CLINICAL STUDY

There was a significant difference between the intensity of pain before the intervention started, immediately after, and also six weeks after it

According to the results of this study and confirmations of other ones, it seems that massage therapy can be a fitting method to reduce the menstrual pain
DISCLAIMER

You understand that our products do not guarantee a cure for any medical condition or disease.

These statements have not been evaluated by the Food and Drug Administration. This product is not intended to diagnose, treat, cure or prevent any disease. The views and nutritional advice expressed by V-Love Yoni™ by Body Adore™ are not intended to be a substitute for conventional medical service. If you have a severe medical condition, see your physician of choice. Individual results may vary.
Shipping
WHEN WILL I RECEIVE MY ORDER?

Please allow 2-3 business days for your order to be processed. During high volume periods, product availability may be subject to change while your order is being processed.

Delivery should usually take 3-5 days in the US. In cases when high demand causes temporary supply shortages, delivery not including processing may take up to 10 days. We will always keep you in the loop should it take longer than expected.

Business days include Monday through Friday only. Orders placed on Friday or over the weekend will start processing on Monday.
DO YOU SHIP INTERNATIONALLY?

Unfortunately, we only offer domestic shipping at this time. We look forward to expanding into new markets in the near future.
HOW DO I TRACK MY ORDER?

Please sign up for text tracking on your order page, Should you need assistance, please email support@mylove.com
HOW DO I MAKE CHANGES TO AN ORDER I'VE ALREADY PLACED?

Orders cannot be changed or updated once the order has been placed. We will only ship to the shipping address entered at check out. If you'd like to add another item to your order, you will have to place a new order for the item.
CAN I USE A PO BOX FOR MY DELIVERY ADDRESS?

Due to Our shipping partners, we cannot ship items to PO boxes, AFO or APO addresses. Your address must be a real, valid, and verifiable street address.

In the event an order is placed using a PO box, AFO or APO address, we reserve the right to automatically cancel your order and issue a full refund to you within 24-48 hours.
I GAVE THE WRONG ADDRESS, CAN I GET A REFUND?

We are sorry to inform you, if you provided an incorrect address in checkout, a refund will not be granted. A reshipping fee will be required if your package is returned to us if you desire to have your items reshipped. If package never found we will do our best to lower your costs at best.
Returns
V-LOVE PERIOD BELT 110% GUARANTEE

110% Guarantee Only First 30 Days 

Our 110% guarantee is ONLY for the V-Love PERIOD BELT (not our entire product list) which includes 100% of your refund plus an additional 10% sent back to your account of the cost of only for this item.

However this 110% guarantee is only the first 30 days NOT 111 Days from the day of your delivery confirmation by delivery service NOT the day you open your package. You MUST RETURN the belt within 10 days of your return request for your 110% refund.
V-LOVE PERIOD BELT WARRANTY

100% Guarantee

30 Days Warranty Only First 30 Days

The best news is you also get 30 days to return your belt if you're not satisfied. This will be a full refund of 100% cost of exact item. Simply return your V-Love Belt for a full refund within 30 days which is the first 30 days from the day of your delivery confirmation by delivery service NOT the day you open your package.

You MUST RETURN the V-Love Belt within 10 days of your return request for your full 100% refund. 110% refund is for the first 30 days ONLY.

The warranty does not cover our portable battery pack, usb cords nor free gifts we include. The V-Love Period Belt is the only item covered under this warranty. Thank you for your understanding.
ALL OTHER PRODUCTS WARRANTY

ALL products on our website except the V-Love Period belt has a 30 day refund policy and a return of product is required within 10 days of your return request. If we receive a completely empty bottle or product, NO refund will be issued.


You MUST RETURN the belt within 10 days of your return request for your full refund.
WHAT DO I DO IF I RECEIVED A DAMAGED PRODUCT?

We apologize that you received a damaged item. Please contact our customer support team at support@myvlove.com for a replacement within 4 hours of delivery. You will be asked to provide photos of the defective product with your information and we would be happy to help you with a resolution.

Requests for replacement will not be honored after 48 hours of delivery. Thank you for your understanding.



I BELIEVE MY ORDER IS LOST OR STOLEN. WHAT DO I DO?

Once your order has been shipped, you will receive an e-mail notification containing the shipment tracking information. If your package gets lost or never gets delivered to you, please contact our customer support team at support@myvlove.com and we can assist you with the next steps for you to make a claim with the delivery service.


Unfortunately we will not immediately ship out another product until claim has been made with delivery service to ensure we are compensated or if you file the claim yourself, you are compensated to pay for another order. Once the claim has been approved, we will happily ship out a new product. We are here to assist with this process all the way until you receive your V-Love products.
Tired of Popping Pain Pills & Suffering with Period Cramps Every Month Stuck In Bed
THIS IS YOUR PERIOD'S NEW BESTFRIEND! GET YOURS NOW!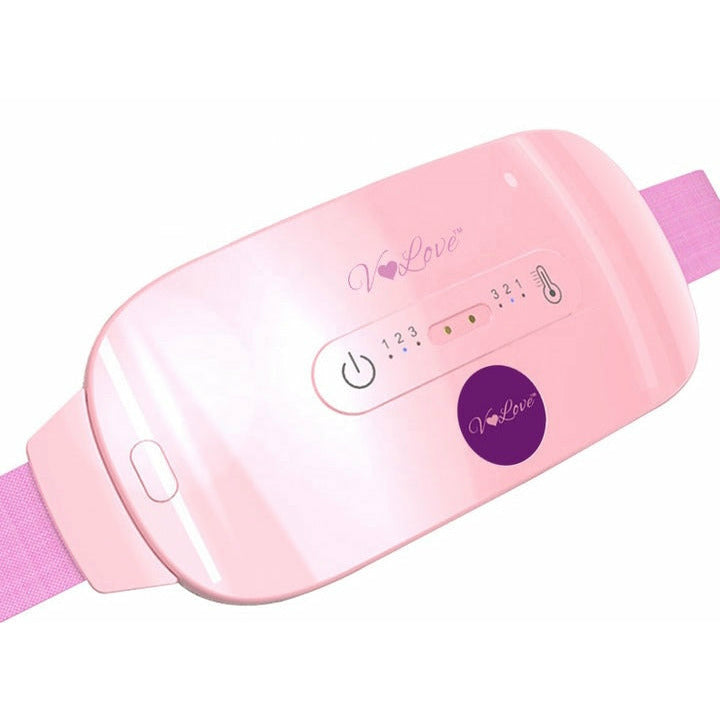 Wireless Period Cramp Relief Belt
• Wireless Massaging Heating Period Belt
• Relaxes Cramps & Tension in Minutes
• Double Tap for Spa-Feeling Relaxation
• Wear To Work, School, Anywhere & Anytime
• Hides Under Clothes - Relief On The GO!
Regular price
$99.00 USD
Sale price
$79.00 USD
Unit price
per
Sale
Sold out
View full details