Ready To Release Toxins & Ex's Soul Ties From Your Womb & Energy While Nourishing Your Feminine Temple Down-There
What better way to nourish your mind, body and spirit after a breakup or when you just need to pour a little self-love into your energy. Yoni steaming is a beautiful experience every woman should try.
• Includes: Your Highness V-Steam Seat & 12 Ready to Steam Tea Bags Plus FREE Gift
• Nourish your V & Help release toxins & energies through detoxing our yoni reducing imbalances physically, emotionally & spiritually.
• This ancient nurturing of the vagina is the most rejuvenating, empowering, feel good moment every woman should experience for herself.
Regular price
$89.00 USD
Sale price
$79.00 USD
Unit price
per
Sale
Sold out
View full details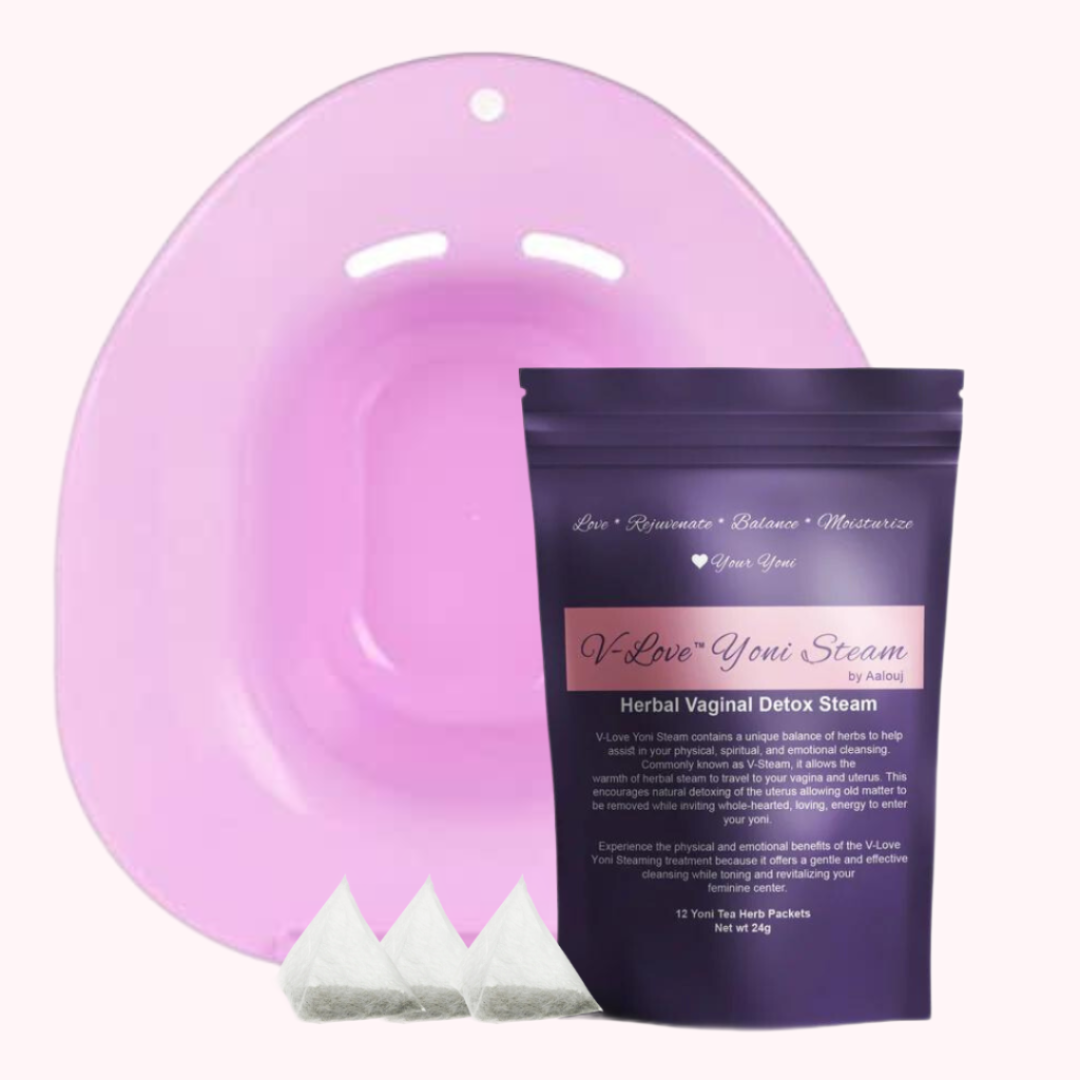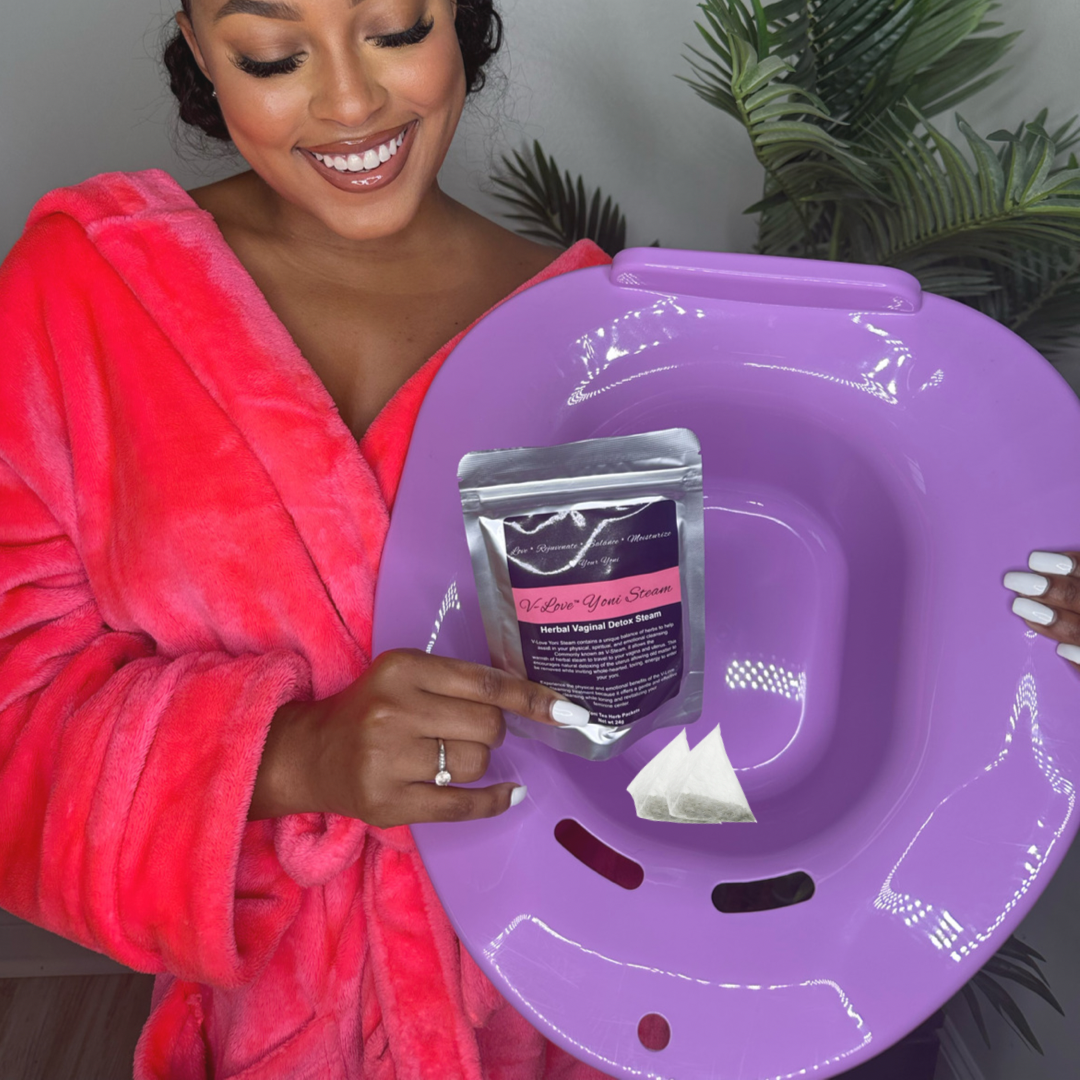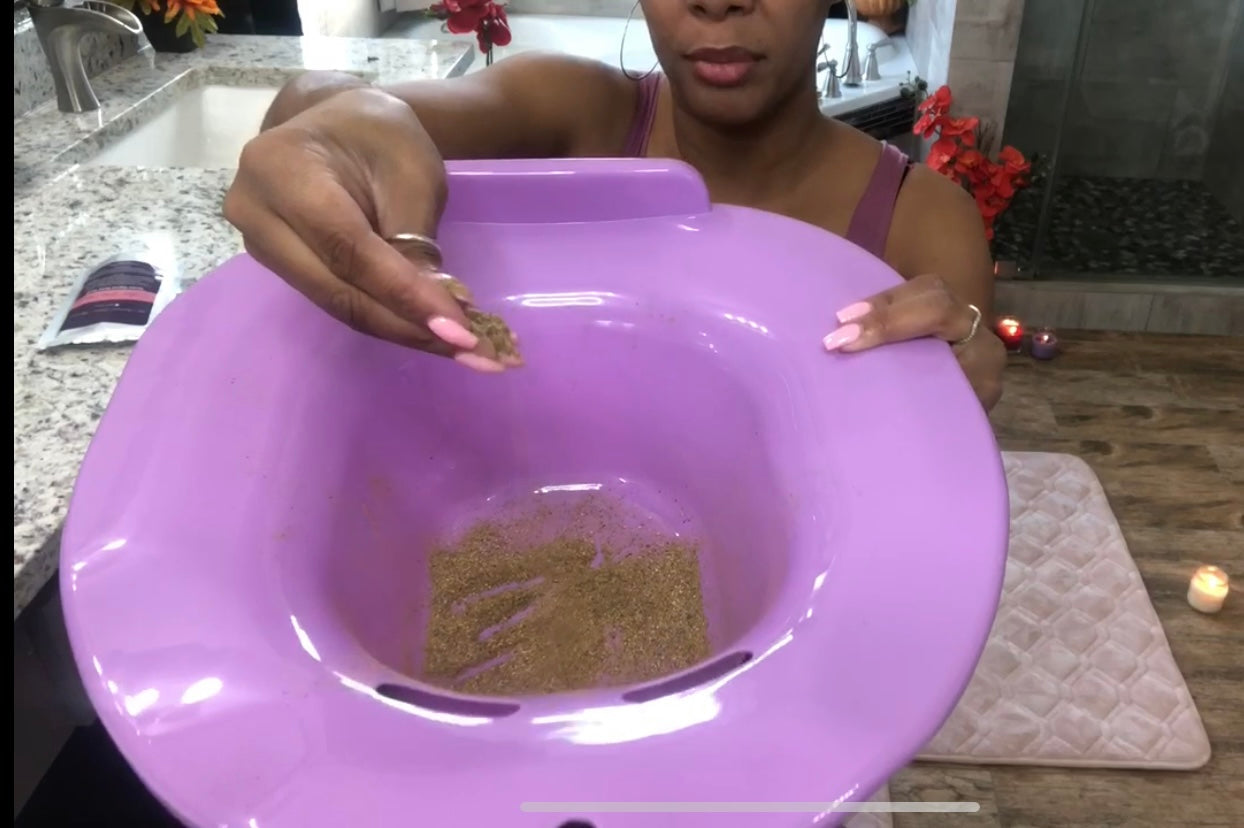 FAQ
BENEFITS

• Douching increases chances of infections and imbalances but yoni steaming adds nourishment to the feminine area helping to reduce imbalances.

• Regulates: May help balance feminine health & menstrual cycle by using nature's herbs.

• The physical & emotional benefits of Yoni steaming because it offers a gently & effectively cleanse while toning & revitalizing your feminine center.
HOW TO USE

1) Bring 3 cups of water to a boil.

2) Tear open 3 bags and pur herbal blend into the "Your Highness" Seat.

3) Place seat on floor under towel, mat, or cushion for a more relaxing setting or raise seat of toilet and place the "Your Highness" Seat on the commode bowl for comfortable seating and to hold your weight properly.

4) Pour boiled water over herbs and steep herbs for 3-5 minutes allowing the herbs to infuse and the steam to cool down.

5) Disrobe from the waist down and wrap large blanket or towel around your waist to entrap the steam and take a seat over steaming bowl. May wear long dress to cover and strap heat during steaming session.

6) Steam for about 20-30 minutes.

7) The steam should feel pleasant and you'll likely find the sensation and experience of the steam enjoyable.

8) This is a great time to relax. You can journal, listen to guided meditation or set some intentions for your powerful vaginal energy.

9) After V-Steaming pout the herbal contents into the grass or garden to nourish the earth and release ALL the negativity & emotions into the Universe and "LET GO!"
INGREDIENTS

• Sarsaparilla: Known to help blood flow and aids in detoxification in the body. Also increases libido.

• Pulsatilla: Known to use for PMS including feminine discharge.

• Amur Corktree Bark: known to aid in the relief of feminine itchiness and/or swelling. Assists with excessive discharge.

• Paris Rhizome: Known to encourage detoxing of cells in the body and dissolves mucus.

• Atractylodes Rhizome: Known to help to decrease excessive feminine discharge.

• Skullcap: Known as an excellent women's herb, the go to for the relief of anxiety and tension. Effective herb for menstrual cramps and its calming action helps PMS.

• Cnidium: Known to help assist with infertility and bacterial.

• Gromwell Root: Known to promote blood circulation and detoxing of toxins in the body.

• Honey Locust: Known as the anti-inflammatory and may help with discharge.

• Sichuan Pepper: Known to promote blood circulation,
WHEN SHOULD I STEAM

• Yoni steams can be done two to three times per month (except while menstruating).

• Best time to steam is 5 days before menstrual cycle or 48 hours after period.

 
SHIPPING

• Orders are processed within 2-4 business days, Monday through Friday excluding federal holidays and weekends. 

• All packages are shipped via UPS or USPS.

• A signature is required upon delivery.
100% RISK-FREE

• You'll LOVE it or Your Money Back.

• We stand behind our products 100% and if you don't get the results you're looking for within 30 days, we will send you your money back within 7 business days.
Order 1049
I have sent two emails trying to contact you. My order was supposed to be here on July 25 and I still have not received anything but I am still getting charged. Please let me know what the issue is thank you!
Never received my order
I never received my order from VLove. I'm wandering why it didn't get delivered.
Happy Customer
I have been using the product it works. I received it quick. I will be ordering more products.
V-Love Yoni Steam (12 Bags=3-4 Steams) | Feminine Care Rejuvenation
Soooo HAPPY!!!!
Steam bags works wonderfully and got a lil gift. Your Yoni essential oil smells sooo good. Feels a smell like a grown woman should. Thanks guys!!!
Customers Also Love These...